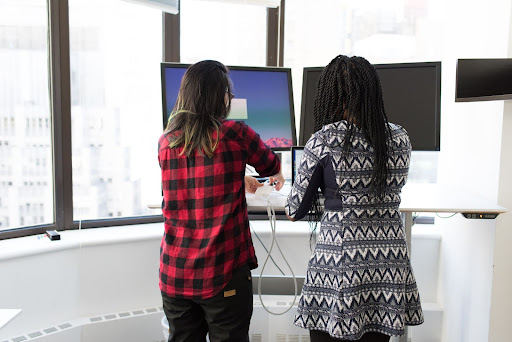 When it is time to upgrade your school board's IT assets, simply unplugging and throwing the device into a recycling bin is not enough to protect your organization, staff and students from potential data breaches or hazardous impacts on the environment. However, knowing where to start can be confusing and overwhelming while you also juggle the other demands of your business.
At Greentec, our goal is to not only promote better organizational security and sustainability but to make IT asset disposition as painless and convenient as possible for businesses across a wide variety of industries.
In particular, we work to support our clients with ITAD and E-Waste Disposition Mapping and have the unique know-how to support you and your team throughout the entire process.
What is IT Disposition Mapping?
A powerful tool for your organization, IT disposition mapping allows you to protect your data and increase disposition value with well-planned logistics, processing and reporting.
IT disposition mapping outlines the entire process of your IT disposition and can be tailored specifically to your organization's IT assets, needs, and goals. When organizations work with a professional like Greentec, IT disposition mapping easily aligns their security, environmental and documentation processes through the use of a mapped distribution process that clearly outlines the processes for all stakeholders.
What is Included in IT Disposition Mapping?
There are three critical components to a successful disposition mapping process, including:
First, you need to identify your organization's unique security risks, as well as take a detailed inventory of all organizational IT assets. From here, mapping will outline how assets must be managed throughout a variety of stages, from end-of-life to disposition.
Moving onto the next step, your school board will need to obtain a clear understanding of what value can be acquired from all assets at each stage of life. At this stage, your organization can also start to develop proper policies and ongoing steps to evaluate security processes moving forward.
Finally, at the end of a successful disposition mapping process, your organization must have complete documentation outlining your sustainable processing from start to finish, allowing you to be confident in the fact that you have achieved optimal data security, mitigated environmental risks and acquired the maximum value for your assets.
Why Should IT Disposition Mapping Be a Priority?
There are many benefits to prioritizing IT disposition mapping and taking control of your IT asset disposition processes.
By creating an effective IT disposition mapping process, you can remain confident in the fact that you are getting the most value possible out of your school board's assets throughout every stage of their lifecycle. This will allow you to effectively track your asset disposition, and budget for future projects.
Through proper IT disposition mapping, you can set your school board apart as an environmental leader in your region. Using your IT assets to their full capacity, maintaining records of your IT devices and strategically disposing of them with an electronic recycling expert is essential to reducing your organization's environmental impact. You can also be confident in your ability to reduce security risks, allowing you to guarantee privacy across your organization and for your staff and students.
Finally, having a solid disposition mapping process ensures all stakeholders within your school board are on the same page surrounding how to manage and dispose of all assets, freeing up time and resources for all members of your organization to focus on the tasks that will drive your business forward.
How Can Greentec Help?
IT disposition mapping is critical for every organization, therefore it is best to begin with an industry expert, who can guide you through the various regulations and internal requirements for disposition and eWaste.
With Greentec's help, you can remain confident in the fact that your organization is not only a leader in security and sustainability, but is also able to view hidden opportunities and strategically plan a full digital transformation that will allow you to innovate and stay ahead, further enriching the lives of your students and staff.
For more information on how Greentec can kickstart your IT and e-waste disposition mapping, check out our website for more details.
Be sure to connect with Greentec on Facebook, Twitter, Instagram and LinkedIn.