The initiative provides e-waste pickup services for businesses, plus a handful of e-waste drop-off sites for individuals around Southwestern Ontario.
Pete Fehrenbach | Apr 01, 2019 – Waste 360
Two months in, Greentec's e-waste recycling initiative "It's Easy Being Green" is producing significant volume increases, says Tony Perrotta, CEO of the Cambridge, Ontario, Canada-based recycling company.
The initiative, launched in January, provides e-waste pickup and related services for businesses, plus a handful of e-waste drop-off sites for individuals around Southwestern Ontario.
"We've seen increased volume for sure," says Perrotta. "Especially on the IT side of the business. We're seeing over 30 percent there."
Perrotta attributes the volume uptick mainly to two factors: the onsite pickup and related services Greentec provides to businesses, plus some sizable investments the company has made in the technology it uses to process e-waste, especially difficult-to-recycle streams such as LCD monitors, TVs and hard drives.
The increased volume is being driven more by the business collection side of the campaign than the consumer drop-off side, although both sides are contributing, notes Perotta.
"It's definitely coming more from the business side than the consumer," he says. "We've set up a number of partner locations where consumers can drop off their equipment, and that's helping. But we're primarily a B2B company. Our logistics and operations are set up for us to pick up from businesses, government organizations and institutions. That's what's driving our volume."
Greentec offers commercial pickup services for end-of-life electronic equipment, such as desktops, laptops, cell phones, tablets, TVs, monitors, modems and servers.
Greentec COO Betty Pereira notes that a key service the company has begun providing businesses is chain-of-custody service documentation and tracking to trace the movement of discarded equipment from the time it leaves the business until it arrives at Greentec's facility to be refurbished, destroyed or recycled. This chain-of-custody service safeguards against altering, tampering and loss of sensitive material.
"We offer a secure, transparent way for businesses to clear out their obsolete IT assets," says Pereira. "Our pickup services make e-recycling easy while keeping confidential business data protected."
In addition to the It's Easy Being Green campaign, the other major volume driver for Greentec has been its investments in research and development and high-tech processing equipment, says Perrotta.
"We've invested a lot in research and development," he says. "We have state-of-the-art equipment to process harder-to-process streams of e-waste, like LCDs that have mercury backlighting."
Among Greentec's technology investments are an advanced Swiss shredding system, a proprietary optical sorting system and robotic cells.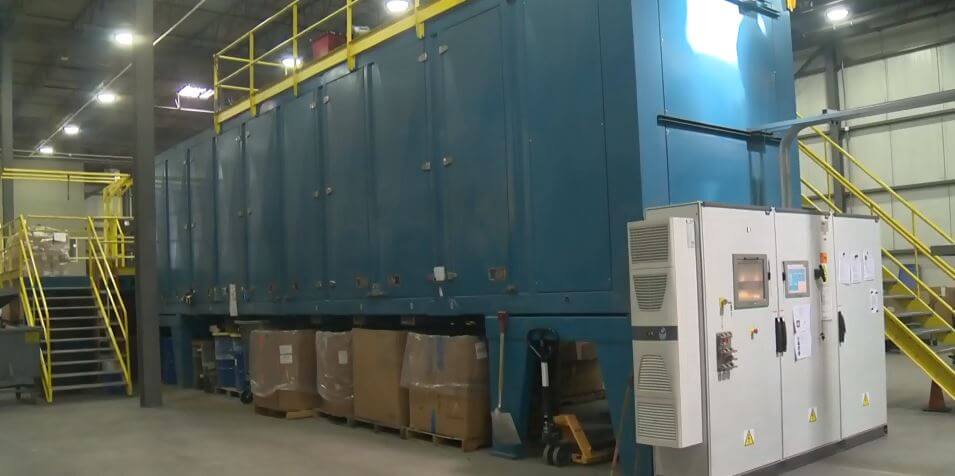 "We've set up a special line using the BluBox technology out of Switzerland," he says. "And we have a system that does optical sorting. It uses optical, infrared and metal detection, and it does algorithms of the three to do the separation. We also have some new robotic cells coming to help us process hard drives. That's a first in our industry."
The BluBox processing system, manufactured by BluBox Trading AG of Schwaderhof, Switzerland, is housed in a 40-foot HC high cube container. Greentec uses the self-contained BluBox system to shred and process flat panel LCDs and fluorescent lamps. The devices are crushed by a shredder into flakes, and the mercury contained in the devices is aspirated and collected separately within the BluBox. The flakes are then sorted and screened by their size, and the resulting output fractions are free of mercury contamination.
Greentec began operating in 1995 and has 80 employees. Among the company's certifications are ISO 14001, OHSAS, R2 and NAID.

View the original article here.
Facebook: @GreentecCA
Instagram: GreenTecCA
Twitter:GreenTecCA

Media Contact
For media inquiries, please contact Rachel Doornekamp at rachel@durrellcomm.com.