Posted on May 9, 2019by Colin Staub – E-Scrap News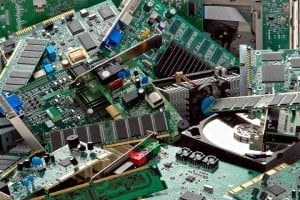 Canadian e-scrap processor Greentec released its first sustainability report this week. It provides key operational data points while also touching on CRTs and other industry trends.
Greentec International, which operates an 83,000-square-foot facility in Cambridge, Ontario, released the document on May 7. The company described the report as part of a push for greater transparency and said similar reports will be published every two years.
The company processed 13 million pounds of e-scrap in 2018, according to the report. That volume was down from 15.4 million pounds in 2017, and the 2018 figure is in fact the lowest yearly processing volume since 2011, the report indicates.
In 2017 and 2018, the company recycled 91.7% of the material it processed, landfilled 7.3% and handled the remainder using a waste-to-energy process.
Greentec's report also indicates the company's output streams by volume in 2017 and 2018, showing some interesting trends from one year to the next.
For example, while glass made up 20.3% of the company's output in 2017, it dropped to 12.9% by 2018. This accompanied the decline of CRTs and rise of flat-panel displays in the waste stream, according to the report.
'Paying closer attention to refurbishment'
Elsewhere in the document, Greentec outlines the weight of refurbished goods the company sold, even breaking the data down by refurbished product category. Printer cartridges made up the largest refurbished product sales by volume, with about 741,000 pounds of cartridges sold in 2018. But that was down substantially from the company's 2017 printer cartridge sales volume of more than 1 million pounds.
These trends helped the company shape its future strategy.
"Overall, the data reviewed indicates that Greentec is paying closer attention to refurbishment and is moving away from low-profit and diminishing mass-input items such as printer cartridges and CRT displays," the company wrote.
Beyond providing a look at company operations, the Greentec report outlines some wider industry challenges. It delves deeper into the shifting waste stream and how that has impacted processors (for example, the CRT-to-LCD shift led Greentec to install specialized equipment that can shred flat-screen devices and capture their mercury vapor).
The report also points to downstream pressures as a significant hurdle for the industry.
"One of the biggest challenges currently faced by recyclers is the availability of viable markets for high-volume outputs like glass and plastics," the report states, adding that these problems require attention from governments and manufacturers, not just recycling companies.
"Greater communication between manufacturers using our types of commodities would help us to find the best end-uses for our materials," Greentec notes.
Photo credit: Olivier Le Queinec/Shutterstock