Would you like to buy some cookie dough? How about some chocolate bars? A Magazine subscription? Or maybe a calendar? Fundraising usually means selling things; often things we don't really want or need.
Chances are, you've been there before. You get the pitch about the good cause (and they're usually good causes), and you think to yourself, "I don't need this 5lb bucket of gluten-free chocolate chip cookie dough, but it's for a good cause.", and so you buy it anyway.
But what if fundraising didn't have to involve selling things? What if you could provide a service to your community that also helps protect our environment and the privacy of electronic device users? This is exactly what the Burlington Fire Department did when they partnered with Greentec to fund their vehicle rescue team.
The Good Cause: Fire Department Vehicle Rescue Team Competition
The Burlington Fire Department serves a community of over 180,000 located in southwestern Ontario, Canada where an average of more than 600 car accidents, or motor vehicle collisions every year. The department's Vehicle Rescue Team supports the highly trained staff who respond to motor vehicle emergencies and help get people out of vehicles when they're trapped as a result of an accident.
Recently the Burlington Fire Department's Vehicle Rescue Team traveled to Romania, and then to Nova Scotia to participate in vehicle rescue competitions. Team members donate their time to the vehicle rescue team, putting in an average of 10 hours of volunteer training and fundraising a week for the spring to fall season. Each member must complete a two-year tour on the team.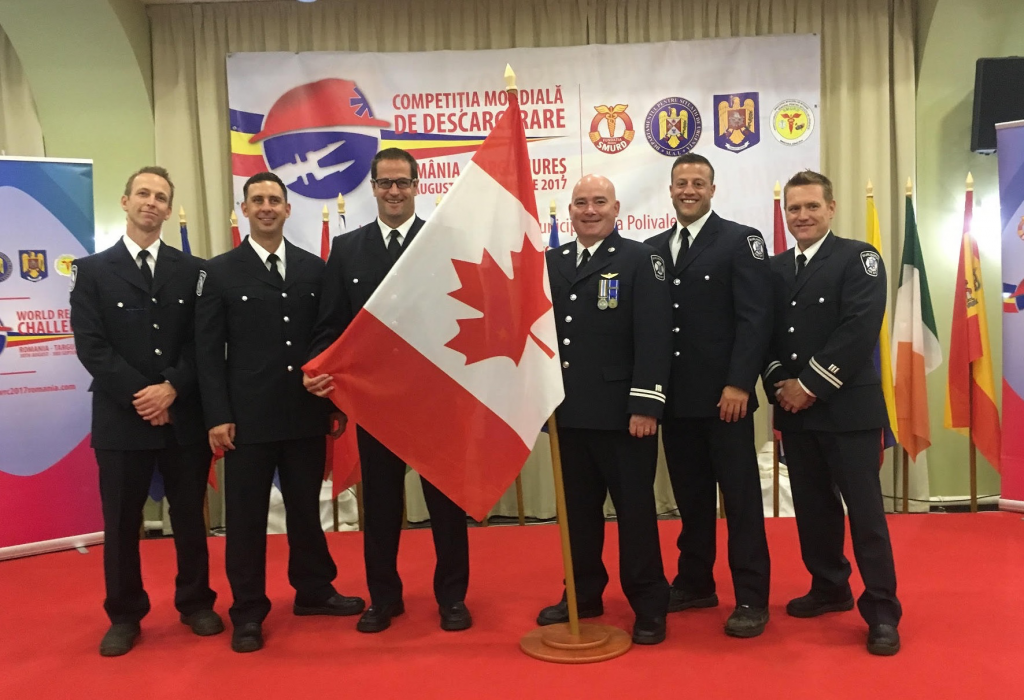 The Burlington Fire Department Vehicle Rescue team at the closing ceremonies of the competition in Romania.
Vehicle rescue or extrication competitions benefit the department as team members experience and share advanced vehicle rescue techniques gained from these competitions to their platoon of fire crews. These benefits then extend to the community and the thousands of residents and visitors that travel Burlington's roads and highways each day.
As you can imagine, the cost to fly and accommodate a team of six on a trip to Europe, Eastern Canada, and back home to the Burlington area is significant. The team was able to pay for these expenses exclusively with funds generated by an e-waste disposal campaign made possible by a partnership with Greentec.
The Fundraising Solution:
Safe Environmentally-Sound Community E-Waste Recycling
To set up this successful donor campaign, Greentec provided e-waste recycling bins that were placed at three of the fire departments eight locations. The Vehicle Rescue team then promoted the availability of these bins to the community through the fire departments many communications channels, including their social media accounts on Facebook and Twitter.
As the team collected old and unwanted electronics from donors, the items were then picked up and securely processed to extract the maximum monetary value, while disposing of unwanted material in an environmentally-sound way. With each collection and processing, Greentec sent the team a cheque.
"Thanks to Greentec for being our sole source of funding for the Burlington Fire Department Vehicle Rescue Team! We couldn't have done it without you!"

- Ryan Stewart, Vehicle Rescue Team Captain
This win-win-win recycling program saves electronics from our landfills and helps provide the funds to this volunteer group, all without having to sell anything.
Interesting in Partnering with Greentec for Your Next Fundraiser?
For over 15 years, Greentec has been providing community groups with hassle-free, no selling required way to raise funds through e-waste collection and recycling. If you're interested in learning more about partnering with us for your next fundraising campaign, please contact us today.